There is a ton of misinformation out there about reverse mortgages. You may have heard things like "reverse mortgages are only for desperate people" or "the bank takes your house". Unfortunately, such myths scare seniors away from the many benefits offered by a HECM reverse mortgage.
My name is Mike Roberts and I'm the founder of MyHECM.com. I launched MyHECM.com to help fill a need online for solid, detailed, and unbiased information about the HECM reverse mortgage.
The people in the industry who know the most about the HECM typically don't write about it online. The industry professionals who do write about it are usually just marketing people who don't really understand the product because they don't work with it every day. I am a writer and a veteran of the reverse mortgage industry. I have over a decade of mortgage lending experience and I enjoy equipping seniors and their families with the information they need to decide if a reverse mortgage is right for them.
This website is unaffiliated with any lender and the information provided herein is intended to be as impartial as possible. A reverse mortgage isn't the ideal option for everybody, so the goal of this website is to provide as complete and unbiased a picture of the HECM reverse mortgage program as possible. My hope is that the information I've provided helps you make a better decision about whether a reverse mortgage is right for you.
Proprietary HECM Calculators
MyHECM.com offers some of the best HECM calculators available online. Our sophisticated and proprietary calculators are free and easy to use and require no contact information. You can quickly and easily calculate a variety of payout and product options for both HECM purchase and "refinance" loans. Our calculators also offer detailed amortization tables that show how your loan balance and equity may change over time. Feel free to check out our HECM calculators here.
Nationwide Business Directory
In 2022, we launched our nationwide business directory to help seniors, their families, and their advisors find and link up with professionals who offer the services and information they need.
If you're a senior looking for a reverse mortgage lender, reverse mortgage counselor, or other financial professional, please check out our business directory.
If you're a financial professional who can help seniors achieve their retirement financial goals, you can get more exposure for your business by adding it to our directory. You can include your business name, address, contact information, website URL, social media links, a detailed HTML-friendly description, and images and videos. Our goal is to help you get more exposure for your business. Get listed today!
The Reverse Mortgage Revealed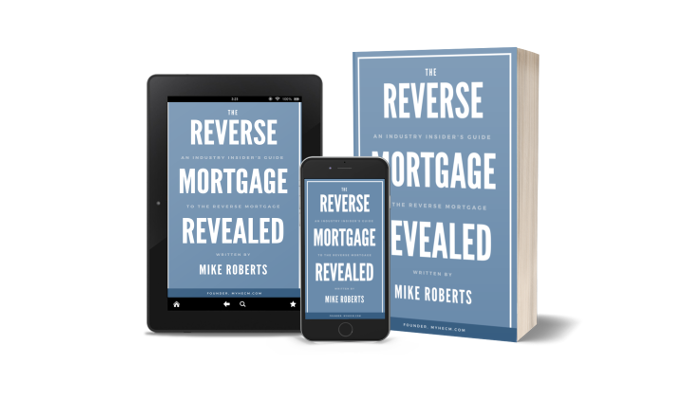 I am the author of The Reverse Mortgage Revealed: An Industry Insider's Guide to the Reverse Mortgage. My goal in writing the book was to cut through all the nonsense, rumors, and hype you may have heard about reverse mortgages. There are no sales pitches here! Just the inside scoop about how a reverse mortgage really works.
The Reverse Mortgage Revealed is jam-packed with information and insights that only an experienced industry professional can offer. You'll discover:
How a reverse mortgage really works.
Who should (and shouldn't) get a reverse mortgage.
Common myths and misconceptions.
Little-known insider tips and tricks the lenders don't tell you (and you probably won't learn anywhere else).
How to increase your payout and reduce closing costs (this alone is worth the cost of the book).
What payout options are available and how they work.
What pitfalls to avoid.
Why some applicants get approved and some don't.
How to finance a home purchase without a mortgage payment (yes, this is for real!).
What to expect during the application, approval, and closing process.
I've also included detailed case studies based on real-life scenarios that tie key concepts and terms together. You'll see for yourself how a reverse mortgage can be used to live a more enjoyable and financially secure retirement.
The Reverse Mortgage Revealed is available on Amazon. Grab your copy now!
About Mike Roberts
When I'm not working or writing, I'm spending time with my lovely wife and three beautiful children. I also enjoy skiing, camping, hiking, traveling, or reading a good book with a hot cup of coffee or a cool brown ale.
I hope you find the resources on this site helpful as you investigate the reverse mortgage. If I can answer any questions, feel free to email me. My email address can be found on the contact page. Have a great day!

Mike Roberts
Founder
MyHECM.com